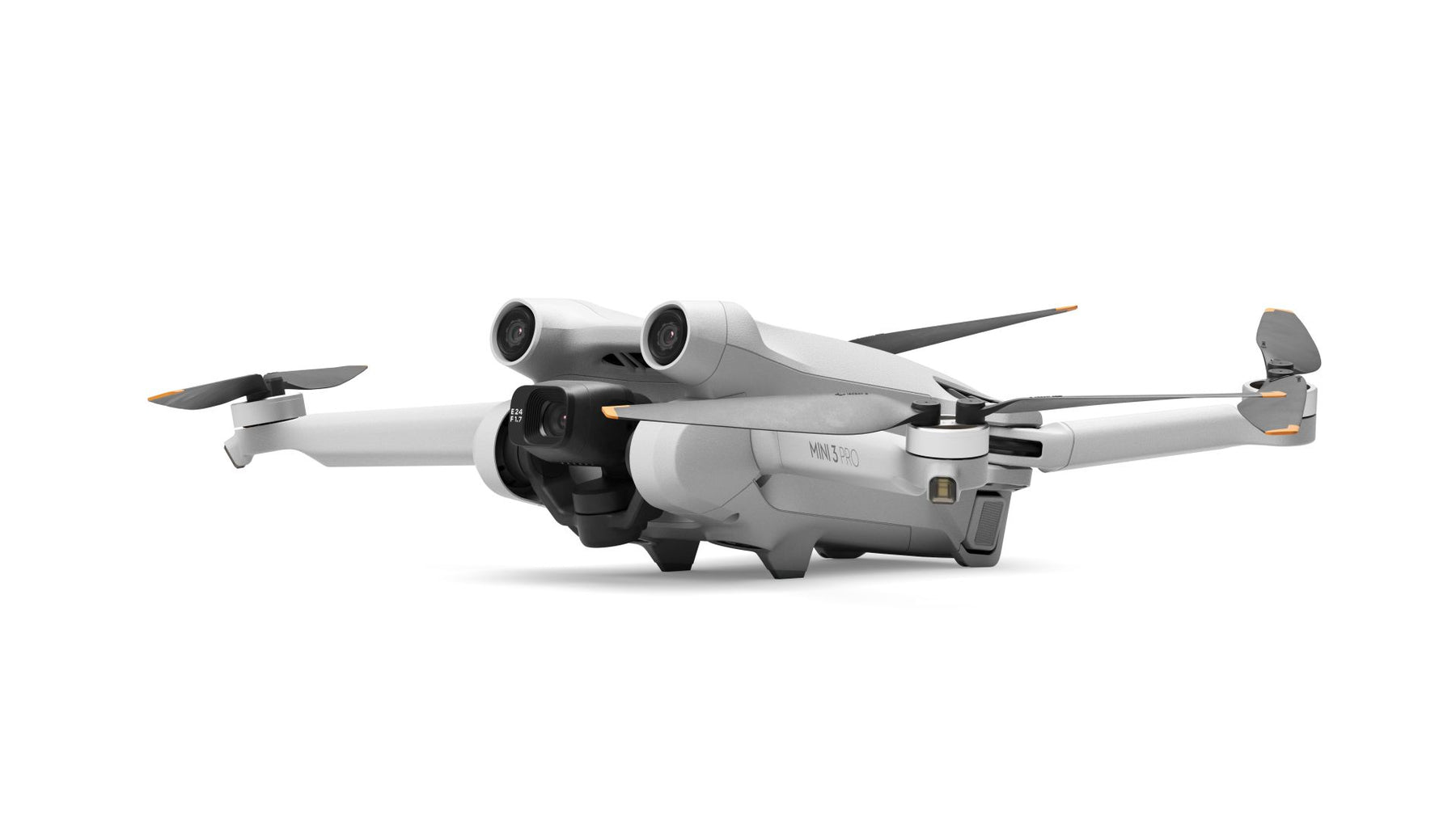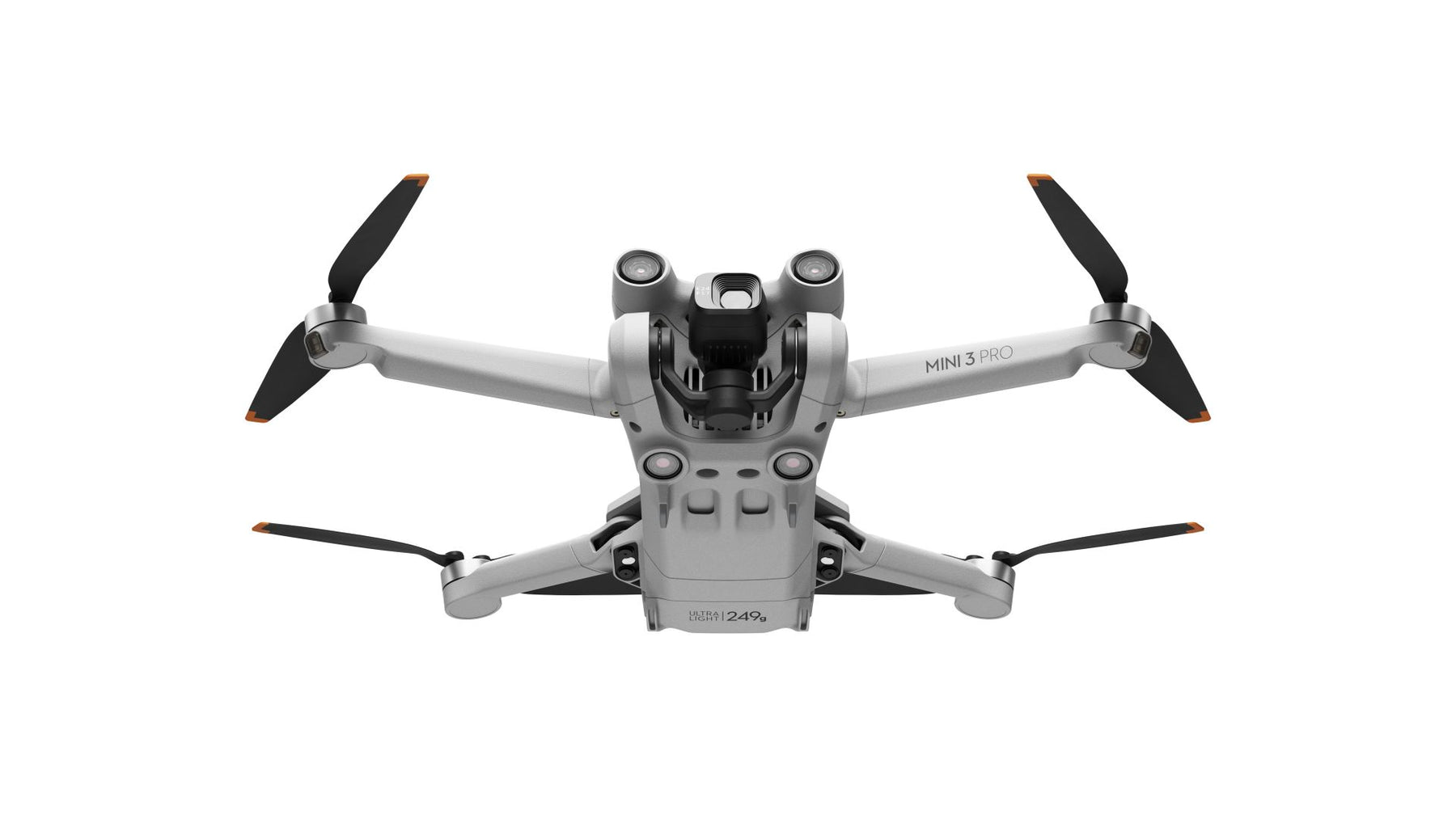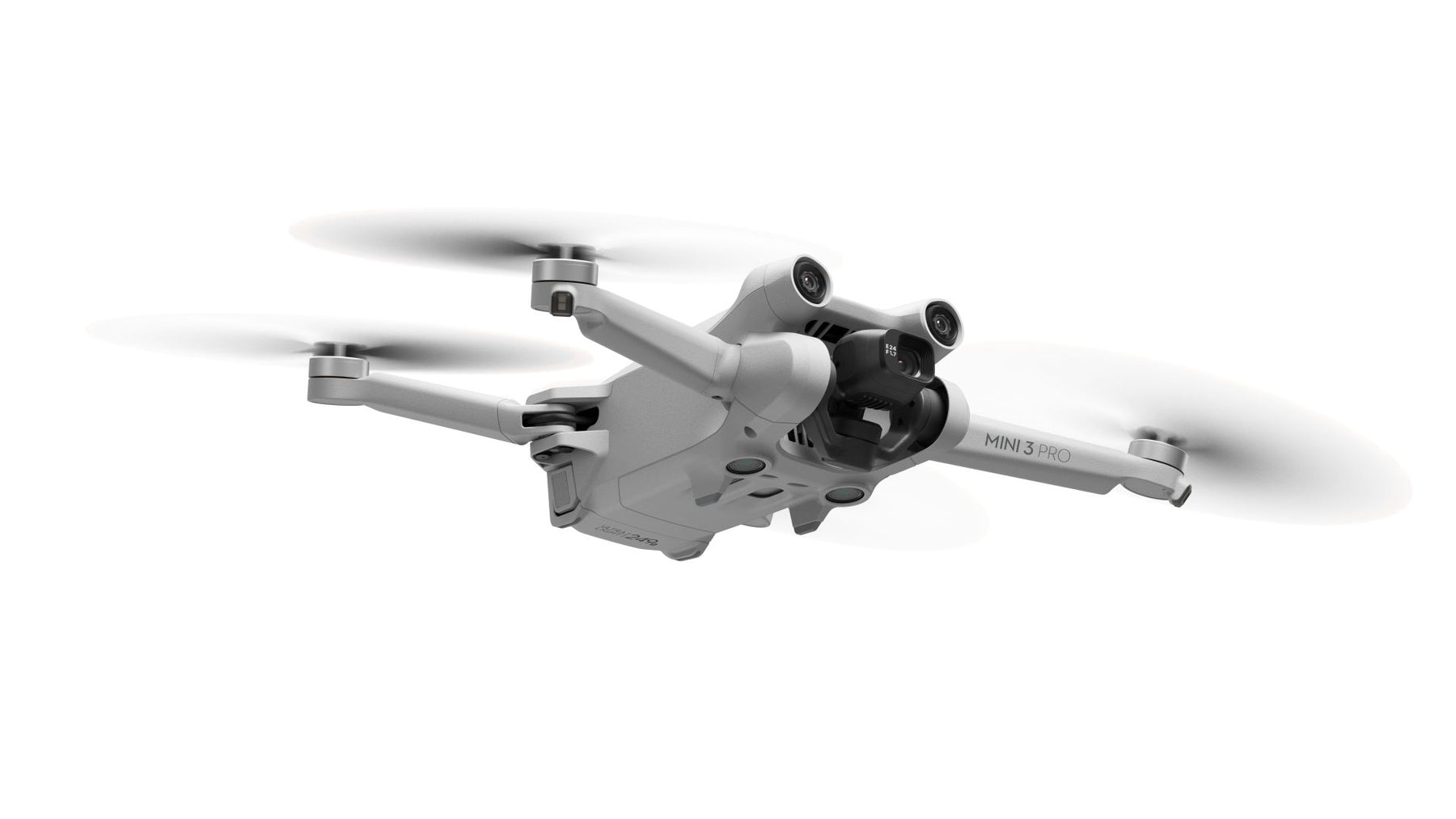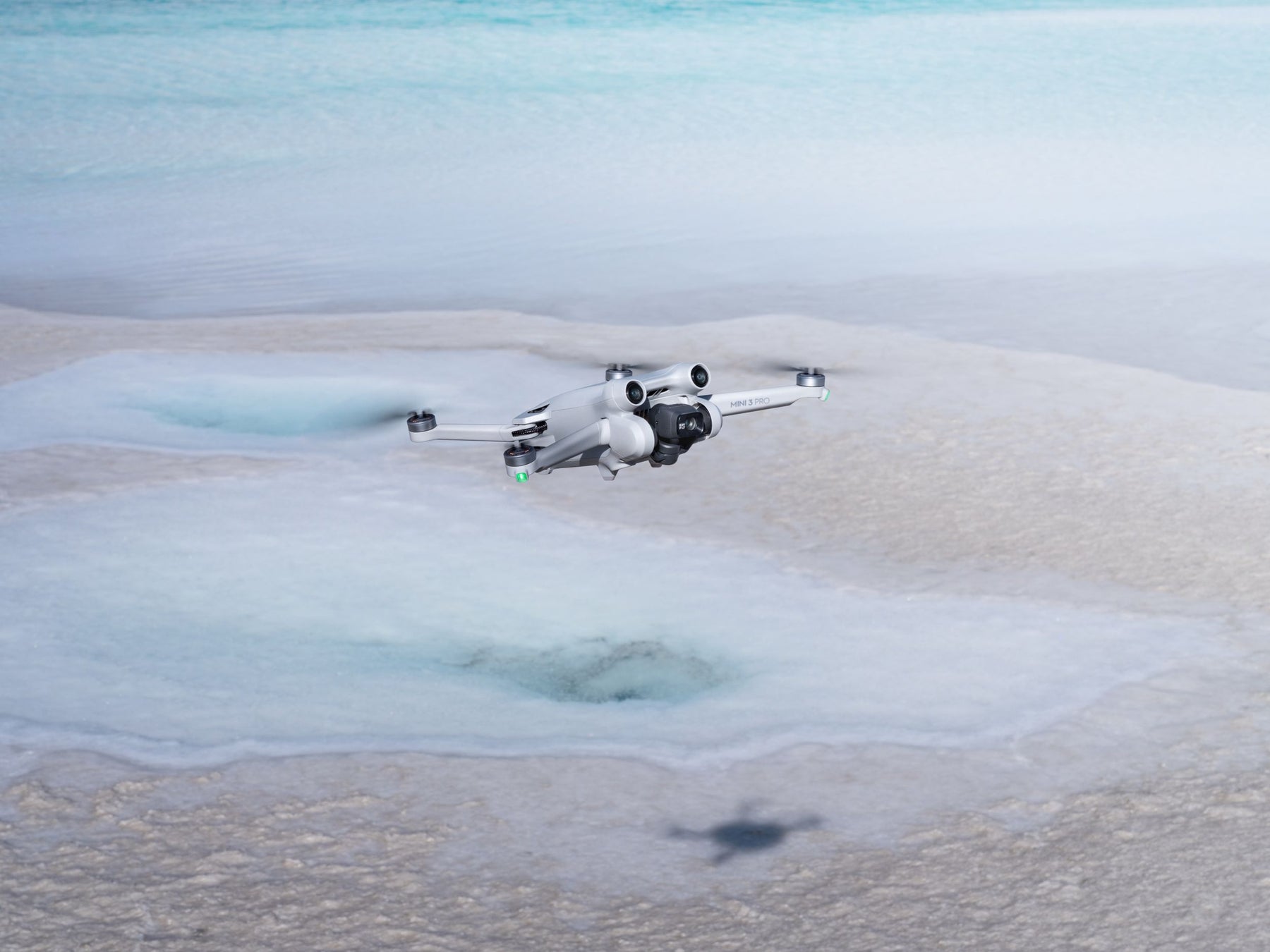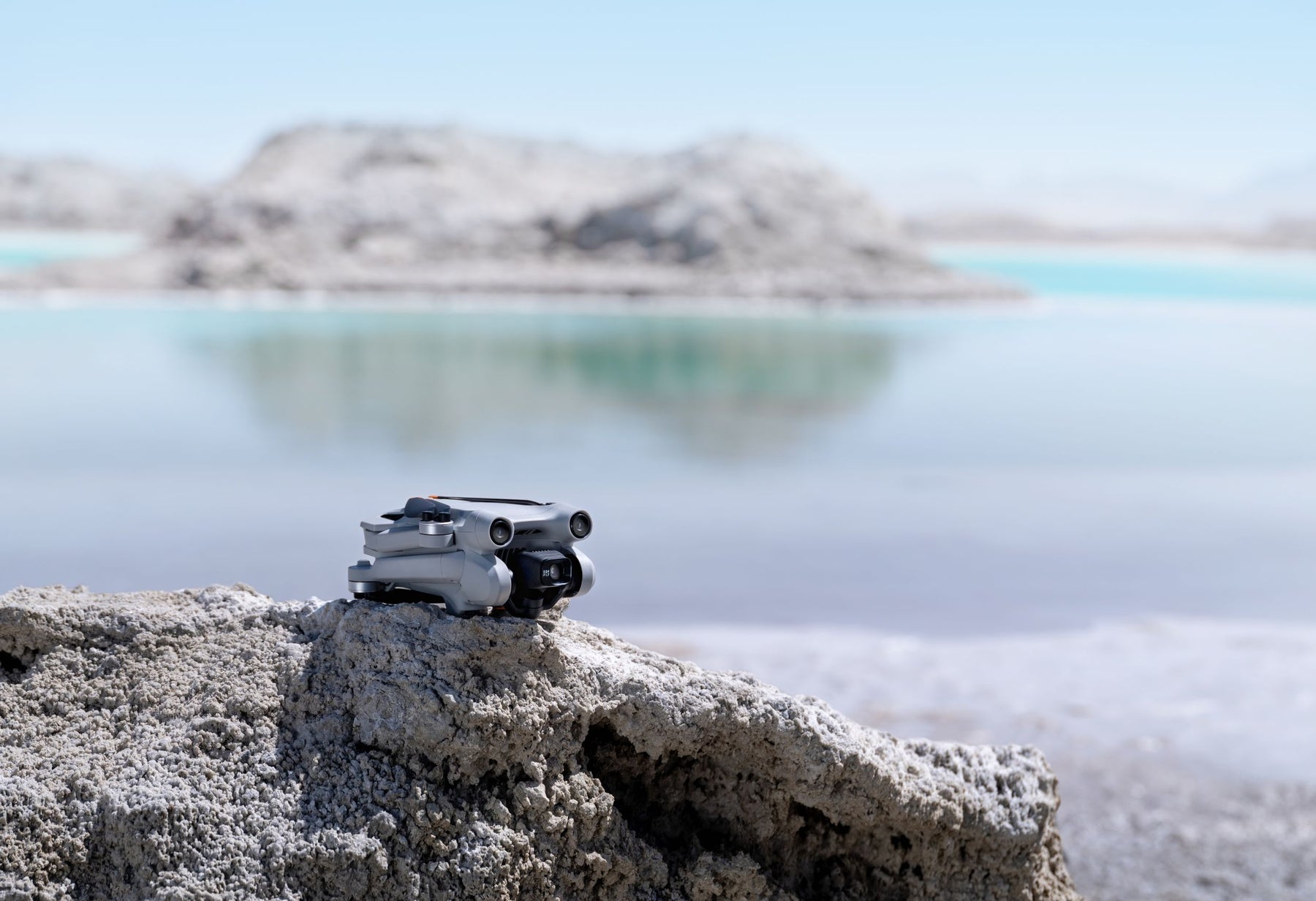 DJI Mini 3 Pro
Please note that due to limited quantities currently, this product may take longer than usual to be shipped after purchase. We're sorry about this unusual disadvantage. Contact us if you want more information. 
DJI Mini 3 Pro, as mini as functional, combines power and portability. Weighing less than 249 g and equipped with improved security features, it is not only consistent with regulations, but it is also our safest Mini. With a 1/1.3 inch sensor and superior functions, the Mini Flight is redefined.
PAY YOUR PURCHASE IN SEVERAL INSTALLMENTS WITH
Option available at checkout.
Terms and operation
DJI Product Bundle:
Standalone
Shipped in 24 to 48h.Free delivery at the top of all orders above $149.00
A performance combo
Mini 3 Pro features an all-new look, optimized for a better experience on every flight. With larger propellers, sloping body aerodynamics and a powerful obstacle detection system, the streamlined design of Mini 3 Pro improves flight time and safety.
The gimbal has been reworked and now offers a greater rotation range for low angle and true vertical shots, for even more creative opportunities. Every detail of this new design has been carefully considered to elevate Mini to heights never before seen.
Fold and ship
For those who create on the move, uncomplicated creation is essential. Weighing less than 249g, Mini 3 Pro does not require registration in most countries and regions. [1] Plus, its foldable and compact design makes it easy to carry with you on your next hike, day at the beach, or an unplanned weekend getaway. Be ready to capture stunning shots whenever inspired.
Good flight time
Capture and explore even more of your surroundings with an extended flight time of 34 minutes. The DJI Mini 3 Pro Intelligent Flight Battery is ultra-lightweight and has the power to cover your aerial photography needs.
All that with a Mini?
Fly by day. Like at night.
Capture the subtleties of shadows and lights during an excursion.
Capture the nightfall with clarity and noise.
Savor the moment, stay true to your creative process, and trust Mini 3 Pro to capture your world.
Pro, and we prove it
DJI Mini 3 Pro is amazing in multiple light conditions, so you're ready to create any time of the day. The 1-inch CMOS sensor has dual native ISO and supports direct output from HDR shots. [3] Every frame is richer with dynamic range that reveals even more highlight and shadow detail.
Enjoy the highest standards in aerial photography with larger 2.4μm pixels and an f/1.7 aperture. With more light available, your images are true to life even in low light conditions.
Aerial photography, as it should be
Create next-level content with 4K[3] HDR video and 48MP RAW photos. Marvel at the clarity and richness of every image, even when zoomed. Slow down the passage of a frenetic world with Slow Motion video in 1080p/120fps.
Accentuate the colors
D-Cinelike Color Mode provides more visual information, for even richer color possibilities and greater flexibility when editing.
The flight in all serenity
Next level security
Fly through the skies with confidence. DJI Mini 3 Pro has been fully upgraded and now supports active obstacle detection and stable video transmission.
Obstacle detection in three directions
DJI Mini 3 Pro is our safest Mini yet. It has front, rear and bottom dual optical sensors and features an all-new design, which provides a wider detection range and increased safety.
Did you say APAS 4.0?
The Advanced Pilot Assistance System (APAS 4.0)[4] detects objects in real time in the aircraft's flight path. This allows DJI Mini 3 Pro to avoid obstacles even in complex environments.
Clear and stable, from town to valley
DJI Mini 3 Pro is equipped with the iconic DJI O3 Video Transmission System. It provides 1080p/30fps live streaming up to 12 km away.[5] From urban vistas to outdoor adventures, you'll always fly with a crisp, reliable live stream.
Enjoy smooth flight and responsive control with the DJI RC-N1 Remote Controller or the new DJI RC. Both remote controllers offer a maximum bit rate of 18 Mb/s and an ultra-low latency of 120 ms.
Shares in an instant
Create unforgettable content and share your adventures in an instant. DJI Mini 3 Pro offers a host of smart features that let you add dazzling moments and creative flair to your videos.
L'intelligence
Actual vertical
Let's see this in portrait mode now. Quickly switch from landscape to portrait orientation with just one click. The redesigned camera gimbal rotates 90° without compromising image quality. The Real Vertical offers detailed, social media-ready shots.
FocusTrack
Be creative in tracking your subject with FocusTrack. The bundle includes ActiveTrack 4.0, Spotlight 2.0 and Point of Interest 3.0, three powerful storytelling tools.
MasterShots
The MasterShots feature is amazing for any beginner aerial photographer. Simply select your subject and Mini 3 Pro performs a sequence of pro maneuvers to then generate a short cinematic video. It is not for nothing that it is the favorite of our users.
Hyperlapse
Speed up time with just a few clicks by creating timelapse or hyperlapse videos. Capture the movement of traffic or clouds sliding across the sky and add character to your videos.
QuickTransfer
Mini 3 Pro is ready to share your creations in the moment and supports Wi-Fi downloads up to 30MB/s.
Panorama
Capture the vastness of a landscape with wide-angle, 180°, vertical and sphere panorama shots.
digital zoom
Get closer to your subject with 4x digital zoom. Capture scenes without disturbing and search for your shots from a distance.
Push your Mini to its maximum
Expand your creativity and fly with these handy accessories.
DJI RC
Free your phone with DJI RC. This lightweight remote controller has an integrated display designed specifically for DJI Mini 3 Pro. With the pre-installed DJI Fly app, just focus on flying and save your phone battery.
Two-way charging station
This handy charging accessory can accommodate three batteries and charges them in sequence. Take it with you to charge your remote controller, smartphone or other devices when you need it.
ND filter set
Adapt to changes in light with ND16/64/256 filters and be ready for the perfect shot anytime.
wide angle lens
Incorporate even more elements of a scene with DJI Mini 3 Pro's wide-angle lens, expanding your field of view from 75° to 100° when recording video (16:9).
DJI RC

Wi-Fi transmitter power (EIRP)

2,400-2,4835 GHz : <23 dBm (FCC), <20 dBm (CE/SRRC/MIC) à

5,150-5,250 GHz : <23 dBm (FCC/CE/SRRC/MIC)

5,725-5,850 GHz : <23 dBm (FCC/SRRC), <14 dBm (CE)

DJI RC

Protocole Bluetooth

Bluetooth 4.2

DJI RC

Bluetooth transmission power (EIRP)

2,400-2,4835 GHz : <10 dBm

Charging station

Compatible DJI Chargers

DJI 30W USB-C charger or other USB Power Delivery chargers

Charging station

Compatible DJI batteries

DJI Mini 3 Pro Intelligent Flight Battery, DJI Mini 3 Pro Intelligent Flight Battery Plus

Charging station

Entrance

5 V, 3 A

9 V, 3 A

12 V, 3 A

Charging station

Sortie (USB)

Tension max. : 5 V, Courant max. : 2 A

Charging station

Type of refill

Three batteries recharged in sequence

APPLI

Application mobile

DJI Fly

APPLI

Operating system required

iOS v11.0 or later Android v6.0 or later
| | | | |
| --- | --- | --- | --- |
| DJI Mini 3 Pro | DJI Mini 3 Pro | DJI Mini 3 Pro | |
| 1 | 1 | 1 | DJI Mini 3 Pro |
| 0 | 1 | 0 | DJI RC-N1 |
| 0 | 0 | 1 | DJI RC |
| 0 | 1 | 0 | DJI RC-N1(USB Type-C) |
| 0 | 1 | 0 | DJI RC-N1 Lightning) |
| 0 | 1 | 0 | DJI RC-N1 (Micro-USB) |
| 1 | 1 | 1 | DJI Mini 3 Pro |
| 1 | 1 | 1 | Type-C to Type-C PD |
Fast Free Shipping
Free and fast delivery in 24/48hrs on all orders over $149 in Canada.
Secure payments
Order without fear thanks to secure payment by credit card or PayPal.
You have questions?
Enjoy a fast and certified support from our technicians.